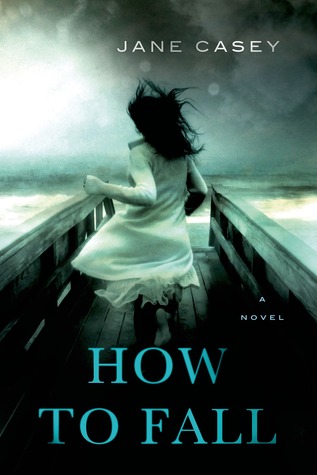 Casey, Jane.
How to Fall (Jess Tennant #1)
August 26th 2014 by St. Martin's Griffin
ARC from Baker and Taylor
After a bitter divorce, Jess' mother decides to return to the town of her childhood for a vacation and to visit with her twin sister whom she has not seen in many years. Unfortunately, Jess' cousin, Freya, died the previous summer in a fall off a cliff that may or may not have been accidental.The big problem? Jess looks freakishly like her dead cousin, which makes her entrance into the teen society of the small town turned tourist haven a bit awkward. She meets Freya's friends Will and Darcy, who are a bit shocked at first but realize that, personality wise, Jess is nothing like Freya. Her cousins, Hugo and Petra, are also glad to finally meet their cousin, and have come to terms (as much as they can) with their sister's death. Even Freya's mother, Tilly, encourages Jess to look at Freya's room in order to get to know her cousin posthumously, and even arranges for Jess to have a summer job at the same charity shop where Freya worked. Through Darcy, Jess meets the fantastically mean Natasha, who is interested in Ryan. Jess stands up to Natasha, going so far as to flirt with Ryan just to make a point. Jess is bothered by the circumstances of Freya's death, and starts to investigate. The local policeman happens to be Will's father, who at one point dated Jess' mother, so that adds an extra layer of awkwardness. In the end, Jess does figure out what happened to Freya, and her mother decides to stay in Port Sentinel at least for the coming school year. I'm looking forward to the second book,
Bet Your Life
, and hope it is published in the US.
Strengths
: This was a great British mystery; there are so many television programs like this, but so few mystery books that make their way across the pond. Definitely a great purchase for high school, but since so many students ask for murder mysteries, I think I'll get this for my middle school library as well.
I have to admit that this was a difficult book for me to pick up, since it started with Freya's death on the cliff. However, I was glad to see a realistic portrayal of a family continuing on after a tragedy. Yes, Tilly has some moments, and has kept Freya's room intact for almost a year, but there's no one unable to get out of bed, or sobbing ceaselessly. It's not a good situation, but the family makes the best of things and moves on. This was a huge relief to read; I can't tell you. When Jess and her mother decide to stay in town, Tilly even decides to have Jess move into Freya's room and make it her own.
Weaknesses
: A bit more romance would have made this an easier sell to my more mature readers, but maybe there will be more in the sequel.