Have to admit-- now that my 1960s honking huge television cabinet is gone, I'm ready to replace the tube television from 1993. With the HDTV box, antenna, VCR and DVD player hooked to it, it's nearly impossible to turn on. This means that the girls and I don't watch a lot of television, which is good. Most of what we watch is on the computer, through Amazon Prime. Maybe it's bad to support Amazon, but since they have a lot of BBC programs I couldn't get elsewhere, it makes my day. I'm looking into a 29" Smart TV so that we can watch some programs together and not have to huddle over a laptop. Maybe for Christmas!
The biggest objection that both girls had was that with an LCD tv, it would be mounted up too high and they couldn't lie on their stomachs and watch television. Not that they do it anyway. So we compromised, and have a table for the television that isn't too high!
Telgemeier, Raina.
Sisters.
August 26th 2014 by Scholastic
E ARC from Netgalley.com
In this companion to the autobiographical
Smile
, Raina's family is spending a week driving to a family reunion in Colorado. As anyone who has ever had to live through a long car trip with family knows, Raina, Amara and Will don't always get along the way that their mother would like, (Their father is flying out, thereby missing the trip. Smart man.) As events occur on the road trip, there are flashbacks illustrating how the siblings' relationship has progressed over time. Once the family gets out to Colorado, there are more dynamics at play, including ones that may affect the future of Raina's family.
Strengths:
This book could be about the life cycle of an earthworm, but since it is illustrated by Telgemeier, readers will pick it up. I don't completely understand the appeal, since I'm sure these books would not be very popular as straight prose, as they are mildly but not overly depressing. I've gone through at least three copies of
Smile
, although
Drama
doesn't check out quite as much. This will circulate.
Weaknesses
: It would be nice to have a more solid idea about the year that this occurred-- there are some historical references that would be clearer.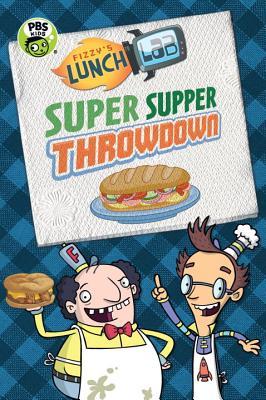 Candlewick Press.
Super Supper Showdown (Fizzy's Lunch Lab)
May 13th 2014 by Candlewick Entertainment
Copy from YABC and
reviewed there.
In this hybrid story/cookbook, we find the characters from the PBS show involved in a competition. Fizzy is sure that Avril and Henry would prefer to have a fresh, tasty and wholesome meal, whereas Fast Food Freddy is sure that they would prefer something deep fried (and possibly on a stick). The two cooks come up with a menu, complete with recipes for the healthy food, and cook the meals, taking time to explain things like "eating the rainbow", which means getting a variety of colors from fruits and vegetables, NOT eating multicolored jelly beans. There's good information about the role of different kinds of food in a healthy diet, fun facts, amusing pictures, and other information about foods and choices that make up a healthy diet.
This is based on a PBS web series by the same name, which also has games, recipes, and other internet content. While this had no appeal at all to me personally, I could see having my children watch it if they were younger. Of course, since they only got one half hour of screen time daily, they'd have to watch an episode one day and do the games the next.
The whole time I was reading this, I was humming the following to myself. If you remember T
ime for Timer
, you will find that you know more of the lyrics to this than you care to!