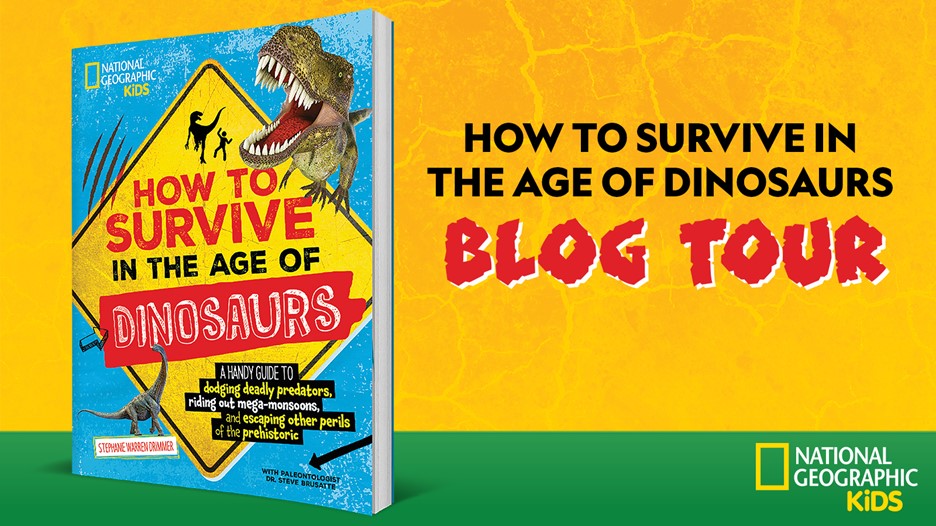 Welcome to the blog tour for
How to Survive in the Age of Dinosaurs,
part of National Geographic Kids' DinoMAYnia – a month-long celebration of all things prehistoric!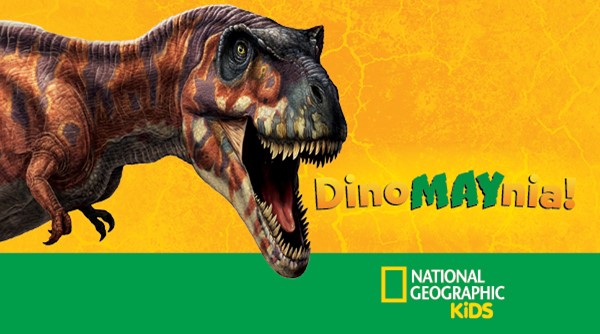 All week blogs are hosting fun excerpts from this handy guide so you will know just what it takes to dodge deadly dinosaurs, ride out mega monsoons and escape other perils of the prehistoric!
How To Survive the Triassic
If you thought things were about to get easier after the death and destruction that ended the Permian period—well, you thought wrong. If you're not being roasted alive in Pangaea's vast deserts, you're in danger of being swallowed up by its frequent monster floods. Despite these extreme conditions, the first dinosaurs managed to rise up in this era. Can you survive along with them?
The Triassic: 252-201 million years ago
Known For: The first dinosaurs
Best Place for Home Base: What are today the North and South Poles
Your Main Food Source: Shellfish
Try to avoid: Getting swept away by a mega-monsoon
Can You Eat That?
Finding food during the Triassic is tough. The Permian extinction has wiped out tons of species, so the monster-size insects of the Permian are gone, and many other edible things haven't evolved yet. The interior of Pangaea is mostly desert, dry and barren of food. So for your best chance of finding a meal, head to the coast. The oceans are devastated by the Permian extinction, their creatures destroyed by a major drop in life-giving oxygen. But that devastation means there is a lot of space for survivors to take over. And take over they do. Bivalves (clams and their relatives) make it through the Permian extinction, and with less competition for food and other resources, their populations explode. They go on to rule the Triassic oceans. Along with gastropods (the family that includes modern day snails), these animals have the right stuff to survive the end-Permian conditions: The flat shape of these small, shallow-water dwellers helps them extract oxygen from the limited supply available. Shellfish have been a food source for about as long as humans have been around to eat them. Bivalves are high in protein, making them a great source of energy. There's evidence that some 160,000 years ago, Homo sapiens lived in caves on the coast of southern Africa. The remains of prehistoric cooking fires littered with bivalve shells show what they liked to eat. There's a good chance that you could do the same 200 million years earlier. To dig up your shellfish dinner, scout the coastline, looking for tiny holes in the mud. Those are bivalve breathing holes. When you find them, dig down. Modern clams like to hang out about eight inches (20 cm) below the surface, but it might take a little experimenting to figure out prehistoric mollusks' habits. Once you've collected some, steam them over a fire and then devour!
How to Survive in the Age of Dinosaurs:
A Handy Guide to Dodging Deadly Predators, Riding Out Mega-Monsoons and Escaping Other Perils of the Prehistoric
(ages 8-12, Paperback, National Geographic Kids Books)
Boom, boom, BOOM
… Look out! That's a T. rex coming your way!? You've been transported back in time to the age of the
dino
saurs. What do you do?!
Test your chops and discover if you have what it takes to survive at a time when Earth looked, well, a tad different in this ultimate survival guide to the prehistoric age.
Find out how to make it through exploding volcanoes and mega monsoons—while dodging giant Permian bugs! See how to fend off an angry pterosaur and learn what to do if you're caught in a stampede of enormous titanosaurs. Discover what you could eat (spoiler alert: You better like the taste of insects!), and find out which hungry creatures just might try to eat you!
Packed with tips, tricks, and helpful maps, this is the ultimate handbook for
dino
saur fans who want to know what life on Earth was really like when
dino
s ruled. Could you survive in the age of
dino
saurs?
About the Author
Stephanie Warren Drimmer
is an award winning science writer based in Los Angeles, California. She writes books and magazine features for kids about everything from the strangest places in space, to the chemistry of cookies, to the mysteries of the human brain. She has a degree in science journalism from New York University...but she thinks she likes writing for kids because she's secretly still one herself.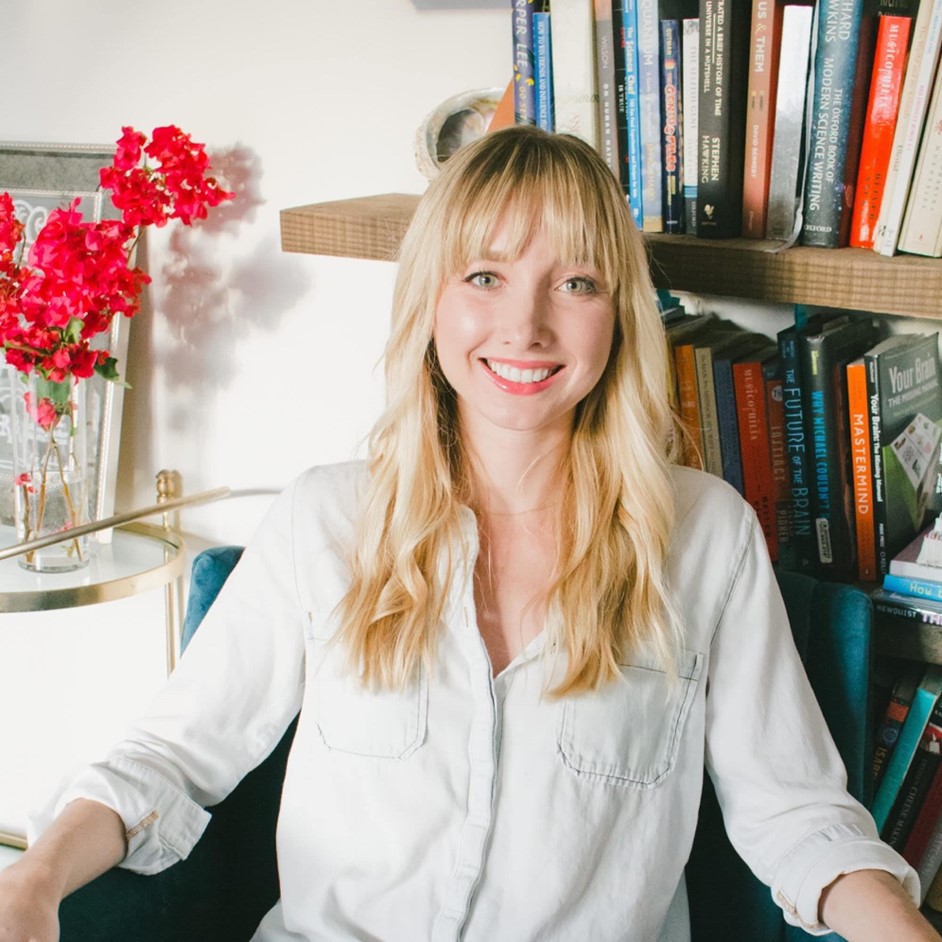 About the Expert Contributor
Dr. Steve Brusatte
vertebrate paleontologist and evolutionary biologist and professor at the University of Edinburgh who specializes in the anatomy, genealogy, and evolution of dinosaurs and other fossil organisms. He has written over 110 scientific papers, published six books (including the adult pop science book
The Rise and Fall of the Dinosaurs
, the textbook
Dinosaur Paleobiology
, and the coffee table book
Dinosaurs
), and has described over 15 new species of fossil animals. He has done fieldwork in Brazil, Britain, China, Lithuania, Poland, Portugal, Romania, and the United States. His research is profiled often in the popular press and he is a "resident paleontologist" and scientific consultant for the BBC's
Walking With Dinosaurs
team.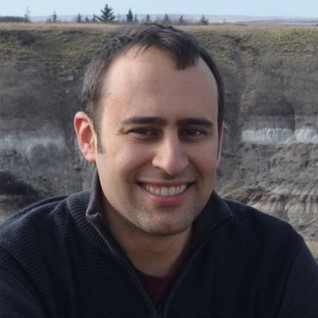 GIVEAWAY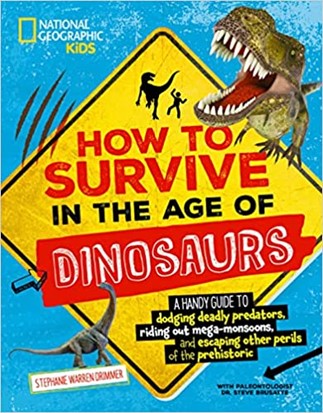 One (1) winner will receive a copy of How to Survive in the Age of Dinosaurs!
US/Can only
Ends 6/3 at 11:59 pm ET
Enter via the form below
Visit the other stops on the tour for more chances to win