Jarrow, Gail.
Spooked!: How a Radio Broadcast and the War of the Worlds Sparked the 1938 Invasion of America
August 7th 2018 by Calkins Creek Books
Copy provided by the publisher
In these days of "fake news", this overview of the 1930s radio scene and the specific event of the broadcast of The War of the Worlds is both timely and fascinating. Starting with the adaptation of the H.G. Wells' novel to radio and details of what it took to put this into production and ending with the lawsuits filed and the impact this had on laws regarding radio, it covers everything that is essential to know about this pivotal media event.
Readers today are unlikely to know anything about Orson Welles or even radio entertainment, so Jarrow does a good job at setting the scene, describing the role of radio in the average US home, the types of programs that were common at the time, and also details about how phones worked and how people got information. There was also extensive background about Welles' career and Well's novel.
There are lots of period photographs that are extremely helpful in explaining the story. For example, when letters were written about the program to the network, people typed them. There is a nice photograph of a woman with a typewriter, which young readers will find most instructive. I know, because I keep a typewriter at my desk in the library, and many of my students are not quite sure what it is! The inclusion of some of the artwork from an illustrated 1906 version of War of the Worlds.
Supplementary material at the back includes footnotes, an instructive author's note, and a fantastic bibliography broken down into different topics. Jarrow's documentation of her research should be held as an example to authors writing a young adult nonfiction book; not all of them are this complete, and I can't imagine that a more comprehensive yet manageable tome on this topic.
My daughter's fourth grade science teacher (at a math and science magnet school) had an entire unit on this event. He worked in math and science concepts, had them listen to clips of the broadcast as well as watch a movie version, and my daughter really enjoyed it! Unfortunately, he retired after teaching her, or I would definitely buy a copy of this for him!
Check out the Blog Tour!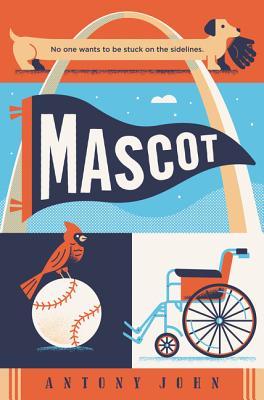 John, Antony.
Mascot
September 11th 2018 by HarperCollins
E ARC from Edelweiss Plus
Noah Savino lives in the St. Louis neighborhood of the Hill, which is great, because he loves baseball. Well, he used to. After a devastating car accident, he is in a wheel chair and trying to figure out a new normal. This doesn't include Logan, his former best friend and teammate, who has been a jerk. When quirky new student Ruben moves to the area, calling himself "Double-Wide" because of his size, Noah is glad to have one person who doesn't know all of the details of his accident. It helps that Ruben is also very matter-of-fact (and has some slight autism spectrum characteristics) and just ASKS Noah about issues that have to do with his wheelchair bound state if he doesn't understand them. When another former friend, Alyssa, runs afoul of Logan and gets roped into competing against him in an upcoming pitching contest, Rben and Noah offer to help her. So does neighbor Mr. Riggieri, after they break his car windshield. Noah is not happy that his mother is starting to date Mr. Dillon, a neighbor who has a younger daughter Makayla. Mr. Dillon being friendly and helpful, and his mother being happy... just doesn't sit well with him, since he is still processing his father's death. His physical rehab isn't going very well because he's not working as hard as he should, a fact which his gym teacher, Mrs. Friendly, is able to point out to him. Along with learning how to catch from his wheelchair for the pitching contest, Noah has a plan to make Mr. Dillon look less appealing to his mother, and for Mr. Riggieri to reconcile with his children. Life goes on, and while Noah is generally moving forward with his life, there are some moments where he has to process his recent loss in order to keep making progress.
Strengths
: If you want readers to gain empathy about people who are facing challenges they are not, it's not very effective to have a slow paced, lyrical novel that discusses and analyzes these matters. A lot of the readers are going to claim the book is boring and give up! If you throw in dog farts, practical jokes, some friend fighting, and a sport, readers will actually pay attention to the book and get information about what it would be like to be in a wheelchair, how you might feel if your father passed away, how to be friends with someone who is quirky, how to deal with a parent dating, and how fathers sometimes fall out with their children over issues like same sex marriage. That's all in this book, but in a way that is fun to read. I also adored the details about life in this very specific neighborhood. Noah's personality and coping mechanisms were brilliantly described. He doesn't wring his hands, but does admit he doesn't work hard enough. The reasons his friends quit talking to him are very realistic. The fact that sometimes happy things can make a grieving person inexplicably sad is a very true thing that I have not seen represented in middle grade literature. Very well done, Mr. John!
Weaknesses
: I got to the end of this and I could remember mascots being mentioned several times, but completely missed which one the titular mascot would be. Also, I'm not sure that there are many tween girls comfortable enough in their own skin to ask a boy if he's "looking at her boobs". (Since Noah is in a wheelchair, that's his eye level.) It's the only detail that seemed unlikely.
What I really think
: Can't wait to hand to students! Great cover-- wish we would see more like this, especially if girls are the main character. It's one thing to say boys should read books with girl protagonists-- it's another to get a 13 year old boy to check out an aggressively pink book with a girl on the cover. Librarians need a tiny bit of help in overthrowing cultural preconditioning.
I read this right after reading a sad, slow, lyrically written book by Major, Well Known Author. THAT book had ME hanging over the edge of the chair playing with my shoelaces so I didn't have to read, so I can only imagine how it would go over with my students.