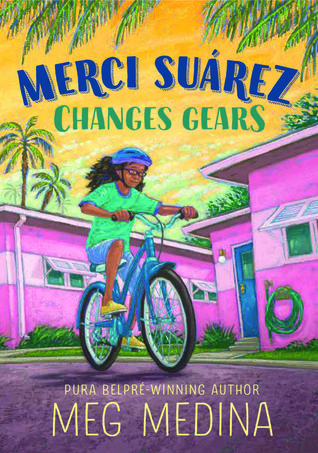 Medina, Med.
Merci Suarez Changes Gears
September 11th 2018 by Candlewick Press
E ARC from Netgalley.com
Merci lives next door to her grandparents, Abuela and Lolo, and her aunt and younger twin cousins. Her father has a house painting company, and she and her older brother Roli go to a fancy private school on scholarship so that they have every opportunity. Merci finds it a bit difficult to deal with her well-t-o-do classmates, especially the snooty Edna, who is one reason that Merci is saving up her money for a fancy new bike. Merci has to be a Sunshine Buddy and is assigned to Michael, a new student from Minnesota, and isn't thrilled to have to show him around, especially since Edna "like likes" him and makes life difficult for Merci. Merci doesn't need help with that-- her Lolo is having trouble with his memory, and her aunt needs someone to watch the twins, so Merci is not allowed to try out for the school soccer team. There are a lot of school projects being assigned, and Merci sometimes has to work with Edna on them, with disastrous results. As her grandfather's memory worsens, her brother applies to colleges, and the family has to deal with a number of struggles, Merci needs to learn to grow up and help her family instead of being focused only on her own personal concerns.
Strengths
: It's nice to see multigenerational families living near each other-- my own neighborhood has a lot of that. The grandparents are especially fun, and the Cuban culture and food vividly portrayed. Merci's struggles with classmates, projects, and assignments, as well as her changing relationship with her brother, are all very realistic. This reminds me a bit of The Brilliant Fall of Gianna Z, but set in Florida.
Weaknesses
: The cover isn't particularly great, and there is a LOT going on in the book. Tightening it up would have put more of a focus on the important issues and saved some repetition of less interesting school aspects. Ah. This author has done several YA books, including
Yaqui Delgado Wants to Kick Your Ass
; it's hard to switch gears between these age groups, even though the author has also done some picture books.
What I really think
: Definitely purchasing, although it always surprises me that families don't expect or discuss mental diminution in the elderly. After my mother was diagnosed with Parkinsons a dozen years ago, we told the girls exactly what to expect. My mother is doing fairly well for 84, but none of us are surprised when she is confused. I guess it makes a better story the other way, since almost all books dealing with grandparents and dementia react with denial.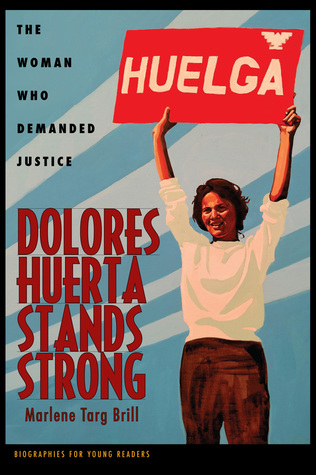 Brill, Marlene Targ.
Dolores Huerta Stands Strong: The Woman Who Demanded Justice
August 16th 2018 by Ohio University Press
Copy provided by the publisher
Born in 1930 to a family involved in coal mining in New Mexico and in agricultural work when economics demanded it, Dolores Huerta's life was tremendously influenced by historical circumstances. The difficulties of providing for a family during the Great Depression contributed to her parents' divorce, which in turn led to Dolores being raised in California. While her brothers occasionally worked in the fields, her mother refused to let her daughter experience that hardship. Instead, Dolores focused on her education and attended college in order to become a teacher, despite the disparities that plagued education of Hispanics at that time. It was during her years as an educator that she saw first hand how difficult the lives of her students were, especially those whose parents were farm workers. In 1942, the US government had instituted the Mexican Farm Labor Program (or Bracero Program) to fill labor shortages in agriculture, but those workers had scant protection against poor working conditions. Along with Cesar Chavez, Huerta saw a need to organize workers to fight for better conditions, and in 1962 the National Farm Workers Association had its first meeting.
From there, Huerta had much work to do, and a challenging personal life as well. Eventually raising eleven children and spending many years as a single mother, Huerta also had to fight against the male view of women at the time that felt that women should not be leaders but should work behind the scenes. Clearly, little progress gets made this way, but Huerta carefully planned her work to help as many people as she could, even if it meant not taking as visible a leadership position as she deserved. This might explain why she later was involved with the Feminist Majority, where her skills were better appreciated.
I hadn't realized that Robert Kennedy had been a supporter of the NFWA, but his untimely death was a blow to the organization. The group fought hard in the 1960s and early 70s, and made great headway, especially after the Grape Boycott to protest workers' exposure to chemicals. Even after that time, there were many issues to be addressed, and Huerta and Chavez worked hand in hand until his death in 1993.
There are so many interesting women who have done amazing things, and it is great to see more biographies on a wide variety of these movers and shakers. My library doesn't need more biographies of Helen Keller or Rosa Parks, (no matter how influential they were, we already have those books!) and I would love to see a lot more titles on women of whom I have never even heard.
This slim paperback is nicely illustrated with period photographs that give a nice overview of the time, and effortlessly weaves Huerta's personal story into the epic of her generation. Notes at the end of chapters give additional information about what society was like at the time, a crucial addition for young readers who may not have a deep sense of historical perspective and who believe that the world has always been the way it is right now.
Ohio University Press
also published
The Jerrie Mock Story
and
Kammie on First,
as well as
Missing Mille Benson,
about the writer behind Carolyn Keene. Since Dolores Huerta's life coincided with several major social and political movements, her involvement in key issues offers a unique perspective of the twentieth century. This is a great addition to any collection and gives a fresh choice to readers who are investigating biographies.