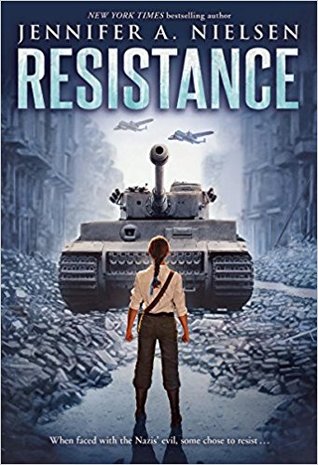 Nielsen, Jennifer A.
Resistance.
August 28th 2018 by Scholastic Inc.
E ARC from Edelweiss Plus
After Chaya's brother and sister fall victim to the Nazis in the Tarnow Ghetto in Poland in 1942, her parents resign themselves to their fate. Chaya, however, decides to go down fighting and joins a Resistance group called Akiva. This group is comprised of former leaders and children in a scouting group. At first, she is a courier, taking food and sometimes weapons into the ghetto. She is does not "look Jewish" with her fair hair, so it is somewhat easier for her to move around with her forged papers claiming she is Helena Nowak. It is not so easy for Esther, a timid girl who joins the group. Eventually, realizing the that situation in Poland is getting worse and worse, the group starts to plan sabotage activities, including bombing a cafe. After that, Akiva sustains may casualties, and Chaya fears she is the only one left. She starts out on her own and eventually runs into Esther, who claims she is on a mission from a former Akiva leader to deliver items to the Lodz ghetto. Things are exceedingly grim when they get there, but the girls decide to travel on to Warsaw. Along the way, they find some of their former cohorts who are trying to get more Resistance members to help in whatever way they can. It is clear that the Resistance is not going to "win", but the hope is that the Nazis can be slowed down, and that some lives can be saved. Chaya and Esther eventually end up taking part in the particularly brutal fighting in the Warsaw Ghetto Uprising. Chaya becomes badly injured, but still tries her best to do the right thing in the face of evil.
Strengths
: Nielsen is one of the best writers of fight scenes in middle grade literature today. They are my favorite thing, but many young readers like the excitement and adrenalin they provide. Nielsen has great attention to detail, with sights, sounds, and movement in these scenes. She doesn't neglect the more niggling, scrounging aspects of survival either, with details about clothing, food, and the desperate measures people were driven to to survive. There's a bit of philosophy thrown in from time to time (why just die when you could make a difference, if you know that death is inevitable?), as well as politics and history concerning the was as it affected Poland. Another fantastic book to have about World War II, and a nice mix of fighting (which has die-hard fans) and tie-ins with the Holocaust (required reading for my 8th graders).
Weaknesses
: This has a ton of information and detail. There were a couple of times when I had to stop and figure out what was going on, and I have read fairly widely about WWII. Because of this, Resistance isn't a great first book about the Holocaust to hand to readers who know nothing about it, but it will be popular with readers who have a decent background knowledge.
What I really think
: Definitely purchasing. Love the cover.
Bascomb, Neal.
The Nazi Hunters: How a Team of Spies and Survivors Captured the World's Most Notorious Nazi
August 27th 2013 by Arthur A. Levine Books
Paperback provided by Young Adult Books Central
Adolf Eichmann orchestrated the removal of thousands of Jews to concentration camps, where many met their deaths. He managed to justify his role in this by saying that he didn't actually kill anyone; he just moved people around. It's one thing to do bad things; it strikes me as especially evil to deny to yourself that they were evil. This might also help explain why Eichmann left Germany, moved to Argentina, and tried to live anonymously and escape retribution.
The investigation into where Eichmann was and the planning involved to find him and extradite him to stand trial for war crimes was quite the undertaking, and was a lengthy and harrowing process. I was amazed at the level of detailed planning that had to be done just to get him on a plane and get him to Germany. The book doesn't stint on these details, which shows that a huge amount of research went into this. While readers who want to know everything about WWII will read this for pleasure, it is also an excellent resource for students who want to take their historic obsession a bit further and do a research project on Eichmann's fate.
In this narrative non-fiction book, there is a lot to learn about the various atrocities performed by the Nazis and how they were orchestrated, but the hunt for Eichmann also makes this read like a spy thriller novel. I was a little unsure whether this was fiction or not-- it is definitely written in an older non-fiction style that adheres to the facts while dramatizing them. There are lots of pictures to illustrate the events being discussed, a list of important players in the events, an index, and copious footnotes.
The level of detail in The Nazi Hunters will please the most discerning reader of World War II books. While I was familiar with some of what was going on, there were so many other issues about which I had never heard. There are not as many books for younger readers that discuss what happened to people accused of war crimes as there are books about the fighting, although we are seeing a few like McCormick's The plot to kill Hitler : Dietrich Bonhoeffer : pastor, spy, unlikely hero. It's good for readers interested in this topic to know that the ramifications of WWII didn't end exactly on September 2, 1945.