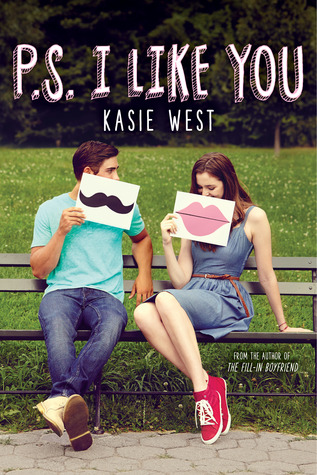 West, Kasie.
P.S. I Like You
July 26th 2016 by Point
Personal Copy
Lily is a budding song writer who is frequently distracted in her chcemistry class by writing song lyrics. Her family is chaotic, with older sister and two young, high energy brothers. Her artistic parents struggle to provide for the family with their jewelry and cabinet making businesses. When Lily finds a note in her desk, she starts corresponding with a classmate, who seh eventually figures out is Cade, her best friends ex-boyfriend who is a huge jerk. Not only did Cade get her saddled with a weird nickname, he's just mean to her. How can his letters be so nice? He doesn't know who she is, however, so when their paths start to intersect (he coaches soccer for one of her brothers) how can she keep their correspondence secret? Lily is also interested in several other guys at her school, but keeps coming back to her pen pals letters. She's also trying to enter a songwriting competition, even though he brothers have broken the guitar she saved up for and can't afford to replace. Will things even work out for her and Cade?
Strengths
: I am always looking for middle grade appropriate high school romances, like the If Only series, Susanne Colasanti, and Sarah Dessen. West is the newest author that I think will work out for my students. Yes, high school romances are always a little more angsty, but this one is sweet. I appreciated that Lily's family is intact and supportive, even if they are a bit intrusive.
Weaknesses
: This pointed out to me that I am NOT 16. She wants to be a songwriter? And all that back and forth with "Can I like him? Or is he horrible?" sort of made the adult in me want to scream. But, as my daughter pointed out to me years ago, this is just because my soul has shrunk in the dryer and is riding up and making me cranky!
What I Really Think:
My 8th grade readers will love this, but it wasn't my favorite. Cute cover.