It's Marvelous Middle Grade Monday at
Ramblings of a Wannabe Scribe
and #IMWAYR day at
Teach Mentor Texts
and
Unleashing Readers
. It's also
Nonfiction Monday.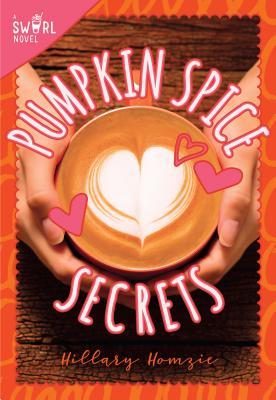 Homzie, Hillary.
Pumpkin Spice Secrets
September 12th 2017 by Sky Pony Press
E ARC from Edelweiss Above the Treeline
Maddie is having coffee with her stressed out older sister at a local coffee shop when she spills her pumpkin spice latte all over the very cute Jacob. He's got a good sense of humor about it... and amazing blue eyes. When school starts and Maddie gets together with her best friends Jana, Torielle and Katie, she's about to confess her crush when Jana announces that SHE likes Jacob. Not only that, but one of their frenemies, Fiona, is Jacob's cousin. Jacob and Lukas start eating lunch with the girls, mainly because Jacob seems to like Maddie, but she sticks to the best friend code and doesn't encourage him. Well, not a lot. They end up working on a debate project at school, and are on the con side of the issue of video surveillance while Jana and Fiona are on the pro side. Maddie's grades slip, and she almost has to miss Jana's birthday party because her parents are so angry, but she does extra credit and manages to be allowed to go. She helps Jana decorate Jacob's locker for his birthday, which makes up for the fact that Maddie spends the afternoon at the library with Jacob on his birthday. Eventually, Jana finds out, and is so embarrassed that she refuses to talk to Maddie. Can the two friends patch things up, and what will happen with Maddie and Jacob?
Strengths
: This. This is middle school. These are the concerns that many middle schoolers have. Boys. Friends. Failing pop quizzes. First crushes. Meeting a boy to study. The covers on this series are amazing. Middle school girls love to read romance books, but some of my 6th graders just don't need a lot of details that YA authors include. These are similar to the Darling
Crush
series, but with MUCH better covers.
Weaknesses
: Realistically overly dramatic, which sort of annoyed me as an adult, but is absolutely true to life. The characters are very privileged, but are at least somewhat ethnically diverse. (Maddie is part Cuban, Jana is Indian, Torielle is African-American (and the brainy one of the group), and Katie is the token blonde. But if we want books that represent all of our students, we still need some books about middle class children, right? The biggest complaint my students have is that they want books about African American characters who don't live in the inner city.
What I really think
: I would have saved up my babysitting money and purchased these in middle school!Since Follett only has them in paperback or Follett Bound, I'm using an Amazon gift card a grandparent donated and ordering these in hard back. They will see a TON of wear!
Nielson, Laney.
Peppermint Cocoa Crushes
October 24th 2017 by Sky Pony Press
Purchased copy
Sasha is hoping that her dance with friends (and twins) Kevin and Karly will win a local competition and earn them all a place in a summer dance institute. Otherwise, she won't be able to go, because her newly single mother is going back to school and doesn't have the money to send Sasha. Besides, her mother hopes that she will apply to the STEM academy like her sister, Claire, and get better college scholarships. While Kevin is willing to practice however much it takes, Karly is more interested in attending Quiz Bowl practice, especially since her crush, Ahmed, is also on the team. This gets Sasha thinking about her own lack of love life, so she decides it's time that Kevin likes her as more than a friend. She starts showing more interest in him, but he just doesn't seem to get it. Is it because her friends are trying to "ship" her with Pete Sugarman? Granted, Pete (who is living with his grandparents, who run the local grocery) is super sweet and seems to like Sasha, but she's determined to make things work with Kevin. Things eventually reach a crisis point, and Sasha learns that you have to be a good friend even when someone disappoints you.
Strengths
: As an adult reader, I knew right away that Kevin was not interested in Sasha because he was interested in Ryan, but it takes Sasha until Kevin tells her he is gay to figure it out. Even then, she doesn't know what to do and leaves abruptly. Her older sister admonishes her that this wasn't being a good friend. We don't find out if Ryan likes Kevin, but there are indications throughout the story that this might be true. Like Dee's Star Crossed, this is a pitch perfect middle grade introduction of a gay character. I might be biased-- at least five of the boys in whom I was interested in middle school and high school later came out as gay, and it was pretty confusing stuff back in the late 70s! Nielsen manages to capture the overwhelming middle school desire to "have a boyfriend" and weaves in Kevin's story seamlessly. The friend drama, conflicts with parents, and social whirl of middle school are all nicely handled. Bonus points for having Pete handy as a back up after Sasha is disappointed!
Weaknesses
: The mother eventually decides that Sasha's true passion is dance and doesn't insist she drop it to attend the STEM school. This is a fine plan if Sasha doesn't want to be gainfully employed, but as a Latin teacher who was unemployed for many years, I'm not a fan of "following one's passion"!
What I really think
: I need at least a dozen of these titles, Sky Pony!
Green, Poppy.
The Maple Festival (Sophie Mouse #5)
October 13th 2015 by Little Simon
Library copy
Don't get me wrong; these are adorable books with good messages, They are well formatted, have large print, nice pictures, and are a nice small size. They are perfect... for FIRST GRADERS. And yet I'm buying the rest of the entire series, along with more Stink Moody, Ivy Bean, and a number of other early chapter books.
This has been a tough year. The 6th graders do NOT want to read. They only want to read a book they can finish in a day. Or has pictures. If they can't move past this by the time they get to high school, To Kill a Mockingbird is going to be a BIG shock!
I'm trying to make myself feel better by thinking this: if I buy some fun, very easy to read books, they won't get a ton of use, and I can have them for struggling students for a very long time. A generous donation from one of our wonderful volunteers will enable me to fund this purchase.
Is anyone else seeing this trend? Is it because smart phones have been around their whole lives? To me, books like
Pumpkin Spice Secrets
are absolutely perfect for this age group. Instead, I have 6th grader who won't read anything but
Babymouse
or who think they should read
The Fault in Our Stars
. Sigh.