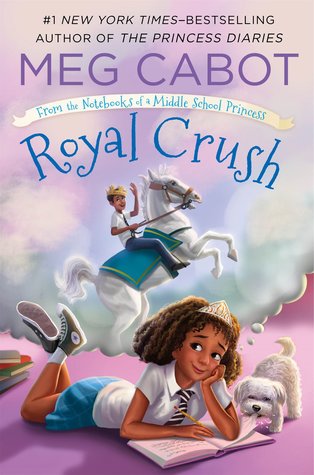 Cabot, Meg. Royal Crush ((From the Notebooks of a Middle School Princess #3)
August 1st 2017 by Feiwel & Friends
E ARC from Edelweiss Above the Treeline
Olivia is very exciting that her sister Mia, the queen of Genovia, is having twins! She is especially excited that staying at home to wait for them gets her out of having to travel to a school competition in the country of Prince Gunther, a classmate who has a bit of a crush on her. When the trip is canceled because not enough people have turned in permission slips and because of widespread flu, that's okay with her. However, when the twins are born and the royal physician wants Olivia and Frank away from them, Grandmere ends up chaperoning the trip. Olivia doesn't understand why her crush, Prince Khalil (whom her friend from the states always wants pictures of) is suddenly cool to her, but blames it on the fact that his uncle has taken over his country and Khalil and his parents are seeking asylum in Genovia. There's another reason having to do with mix-ups in the royal mail, but things are worked out, the twins are named, and life in the palace continues.
Strengths
: Libraries everywhere invested in the ten book Princess Diaries series, so I hoped that this new series would introduce younger readers to those books and get them moving off the shelf. It's interesting to see more diversity, and older readers will be interested in following Mia's career.
Weaknesses
: There is a ridiculous amount of privilege in this, and it just rubbed me the wrong way, especially the way with which Khalil's difficulties were dealt. I think it's just time to move on from this series.
The Princess Diaries
was published in 2000; it's dated.
What I really think
: The first two books have not been picked up in my library, so I'm not going to purchase this third volume. I love Cabot's writing and wish she would move on to new characters.