Bowling, Dusti.
Insignificant Events in the Life of a Cactus
September 5th 2017 by Sterling Children's Books
E ARC from Edelweiss Above the Treeline
Aven is not too happy that her parents are moving the family from Kansas to Arizona, where they have gotten jobs running Stagecoach Pass, a run down Western theme park. It's hot, she has to try out for the soccer team, and making new friends is a bit more of a challenge because she was born without arms. Her parents have always been supportive and positive, but Aven has categorized all of the different types of interactions she has with people-- those who ask inappropriate questions, those who pretend nothing is different, those who ask politely about her arms but don't ask her name, those who back away in fear. When she meets Connor in the school library (eating lunch with your feet is a bit embarrassing when you're the new kid), he reacts a little differently. He has been barking at her, but not because he is making fun of her. Connor has Tourette's Syndrome, and has a variety of tics that make him uncomfortable eating in the cafeteria. The two become friends and hang out a bit at Stagecoach Pass. Connor's single mother works very hard as a nurse and he is frequently by himself, so Aven's mother takes the two of them to a Tourette's support group, which is somewhat helpful to both of them. There is a mystery in a locked desk in the park, and Aven and Connor make some headway in figuring it out, with the help of their friend Zion. Things don't always go smoothly-- Aven is sometimes irritated by how people treat her or frustrated by how hard it is to do things, and Connor also struggles with his issues. The two challenge each other, occasionally have misunderstandings, but help each other make their way into the wider world.
Strengths
: This struck a very good balance for me. The difficulties of both Tourette's and having no arms are not sugar coated, but there is an overall feeling that life is better if one approaches it with a positive attitude. This is a good message for all children. The parents are great, and their struggles are realistically portrayed as well. Stagecoach Pass is a fun setting, and the mystery adds another level of depth to the book. The writing has lots of Sonnenblick-esque funny moments, and the details about dealing with the challenges will be interesting to middle grade readers.
Weaknesses
: The title and cover are a bit vague, which is understandable but might require some hand selling. The mystery was a bit overly coincidental for me, but was explained in a way that I could buy. The only thing I would have changed would have been to have the third "misfit", Zion, be very, very shy instead of overweight. Sometimes, people's challenges are not detectable to others.
What I really think
: I would have loved this in middle school. Realistic fiction about people who are a bit different from me going about their daily lives? Yes! I adored those 'windows', and this one seemed especially realistic. Ms. Bowling also includes a note on her research; she did ask a women without arms to check this for accuracy, and her husband has Tourette's and agrees with the characterizations. This also included a family run theme park! Definitely purchasing.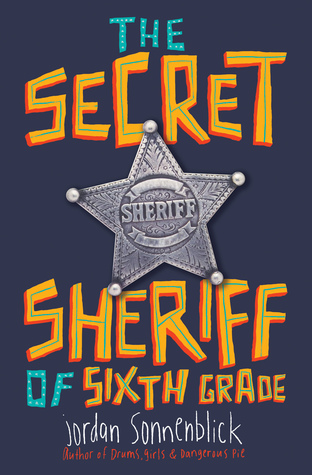 Sonnenblick, Jordan.
The Secret Sheriff of Sixth Grade
August 29th 2017 by Scholastic Press
E ARC from Edelweiss Above the Treeline
Maverick's mother has trouble keeping a job due to her alcohol consumption, which probably also influences her bad taste in men. When her current boyfriend becomes abusive, Maverick vows that he will try to help out the people around him the way that super heroes do, and he carries a small badge that his deceased father gave him as a reminder. He fails at it, though, getting into impulsive problems at school, where it doesn't help that his locker is right in between those of boys who give him a hard time. He is called before the "scary" principal Mr. Overby, "The Bee"twice on the first day. To his surprise, the principal is fairly understanding. Could it be because he really believes the sign Maverick sees in his office: "Be kind, for everyone you meet is fighting a hard battle."? Maverick is told to call his mother, but when she doesn't answer, he calls his Aunt Cat, and claims that she is his mother. As the situation at home gets worse, things start to fall apart at school as well. Luckily for Maverick, the teachers at school are supportive, and Aunt Cat is willing to step in when Maverick needs her. Maverick starts the year wanting to save others, but he will be lucky to make it through sixth grade saving himself.
Strengths
: Another excellent addition to the Sonnenblick cannon of serious books that are also funny. Maverick is an engaging, true-to-life middle school student, and the fact that he has problems at home is handled in a painfully realistic way. Principal Overby's philosophy is one I try hard to remember, and this book shows in an amusing yet sympathetic way how much better the world would be if everyone would keep that philosophy in mind.
Weaknesses
: There was something half a bubble off about how Maverick thinks about and expresses his problems. Can't quite put my finger on it, but the students whom I have worked with who have real problems tend to... make more excuses for the adults? Talk about their situation as if it's not a problem. The target demographic won't pick up on this, but it seemed odd for Sonnenblick.
What I really think
: Definitely will purchase at least two copies, and this will be an excellent introduction to Sonnenblick for my younger readers. I do think that Sonnenblock excels most when the characters are a little older but still are accessible to middle school students, like Peter from
Curveball
.
Watch the trailer
here
.
It's Marvelous Middle Grade Monday at
Shannon Messenger's Blog
and #IMWAYR day at
Teach Mentor Texts
and
Unleashing Readers
. It's also
Nonfiction Monday.
Here's a little vigilante justice, as a bonus!
Peirce, Lincoln.
Big Nate: A Good Old-Fashioned Wedgie
August 29th 2017 by Andrews McMeel Publishing
Copy provided by publisher
First of all, I LOVE Mrs. Godfrey. Nate draws insulting pictures of her, so the obvious "punishment" is sitting for more portraits during Nate's lunch. Nate's ego and his methods of attracting middle schools girls are so true-to-life and hysterically funny. The only think I don't understand is this-- why is Peirce one of the few writers who really understands middle school so well? As much as I love Nate, I'd really like to see another novel from this author, since he has such a fantastic middle grade voice.
From Goodreads.com:
"Join the unstoppable Big Nate for another round of middle school adventures! From homework and hygiene to hilarious hiijnks – no one quite does sixth grade like Nate and his friends.

Need a way to shut up some snooty kid when he gloats about his private school? Looking for the perfect response when your best friend joins the grammar police? Want a quick and easy way to out-snap even the snappiest comeback? Nate Wright has the answer: a good old-fashioned wedgie!

The whole gang from P.S. 38 is back for more hijinks, hilarity, and underwear hoisting in this new collection of Big Natecomics. Can Chad somehow survive on a diet of kale and soy nuts? Are Jenny and Artur EVER going to break up? And how is Nate supposed to concentrate on baseball when he's got a crush on his team's new pitcher? See for yourself! Join Nate and the rest of the crew for another unforgettable round of middle school adventures!
"