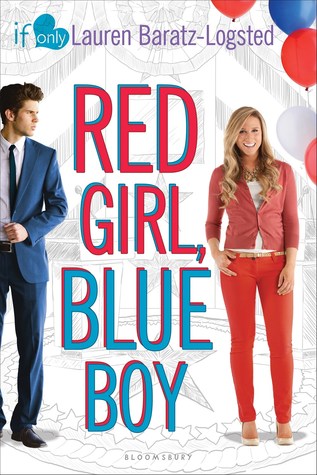 Baratz-Logstead, Lauren.
Red Girl, Blue Boy. (If Only #5)
October 20th 2015 by Bloomsbury USA Childrens
E ARC from Netgalley.com
Katie's father is the Republican candidate for president, and Katie loves politics. She watched the numbers, knows all the tricks of the trade, and is not happy that she's been forced into a "normal" life not giving interviews, but she does enjoy having Kent, her bodyguard, accompany her to her private school. She usually wears little pink suits, with her hair in a bun. Drew's mother is the Democratic candidate for president, and he is NOT pleased. His family started out poor, but his father invented a computer thing, and now they live in a huge house. His best friend Sandy still hangs out with him, and Drew still rides the bus to the public school. When Katie appears on a morning talk show that Drew has declined to be on, she makes a comment that he is a "wimp", and the battle begins. He goes on a show with her but tries to get home on his own and is mobbed by girls. Katie pulls him into her limo, and a romance begins. Drew introduces Katie to walks on the beach, she introduces him to cronuts. She even buys a pair of jeans when Drew wonders why she doesn't have any "normal" clothes. Things are going fairly well (with the help of Kent) until two scandals break: Drew's father is accused of having an affair, and a photographer gets a shot of Drew and Katie kissing, and it's all over the tabloids. Each blames the other, but their respective press agents want them to continue to be seen together, which is akward all around. Will the two ever be able to reconcile, no matter what the results of the election will be?
Strengths:
I really liked the politics in this one-- at one point, it is mentioned how both candidates are moderate for their parties, so very similar in their outlooks. Of course, the politics are just a setting for the romance, which is cute and sweet and completely age appropriate for middle school on up. The main characters grow a lot, and even the supporting characters are fun.
Weaknesses
: Red jeans on the cover? Nowhere in the book. Should be a suit, with her hair in a bun.
What I really think:
These are so popular with my readers who like romance books that I will certainly investigate all the books that are published in this series!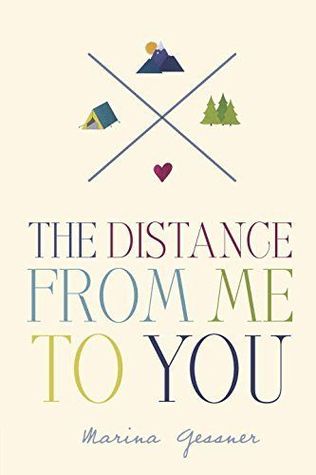 Gessner, Marina.
The Distance from Me to You
October 20th 2015 by G.P. Putnam's Sons Books for Young Readers
E ARC from Edelweiss Above the Treeline
McKenna and her best friend Courtney have elaborate plans to hike the Appalachian Trail from end to end; they have even saved up their money to buy equipment and taken a year off after high school. A very short time before the trip, Courtney backs out because she doesn't want to leave her boyfriend. McKenna feels prepared enough to go on her own, so lies to her parents and takes off. The first few days are humbling; she can't make it up one route, and her phone breaks. She eventually gets the hang of it, and although the trip is brutal, she makes good progress. She also meets Sam, a boy who is walking the trail because he doesn't have anywhere else to go. He has left his abusive father right before graduation, and his older brother is not any better, so he has no home. He hikes with his meager supplies and takes days off from the trail to work and earn money to go on. He and McKenna meet up several times and have a friendly relationship, but eventually decide they want something more and walk the trail together. After an ill-conceived side trip, they become lost and injured, and have to manage to get help in order to survive.
Strengths
: This had excellent details of what is involved in the hike, and McKenna is shown as having unlimited resources for hotels, food, etc. The drawbacks of the trail are clearly described, but McKenna manages to overcome most of them. The romance is good as well.
Weaknesses
: Too much sex for middle school. Drat. And about halfway through, too. Sigh.
What I really think
: I would have ADORED this as a high school student. Sam was cute, a basically good person, and in need of help. McKenna manages to help him without sacrificing her goals. This was sort of like
Before Sunrise
, set on the Appalachian Trail which, by the way, I used to want to hike until I read Bryson's
A Walk in the Woods
.
I may buy this one for my older daughter as a Christmas present. I think she'll like it, too.