Platt, Chris.
Wind Dancer.
April 1st 2014 by Peachtree Publishers
Copy recieved from Young Adult Books Central and
reviewed there.
Ali blames herself for a lot of things-- the accident that injured her and resulted in the death of her horse, Max; her brother going off to war and coming back from Afghanistan injured; the fact that no one is helping the horses that belong to the old lady near her family. When she and her friend visit the horses at night and realize how bad off they are, she does call animal control, and the animals are taken from the neighbor. Ali's parents think that she will benefit from taking care of the horses, so agree to foster them. They have been so neglected that they must be fed veyr small amounts frequently, so Ali spends a lot of time with them but tries very hard not to get attached, especially to Wind Dancer, who reminds her of Max. Ali's brother, Danny, has a protheses for his missing leg, but doesn't want to use it and doesn't really want to do anything to help himself recover. The parents seem powerless to compel him to do anything, but he eventually starts to help Ali with the horses and begins to see that he needs help himself.
Strengths:
This was a nice, well-written short book that covered both the issue of caring for horses and the issue of returning vets with PTSD. This would go well with Rorby's The Outside of a Horse.
Weaknesses:
Nothing terrible new or earth-shakingly wonderful, just a very solid book that readers who like horses will enjoy.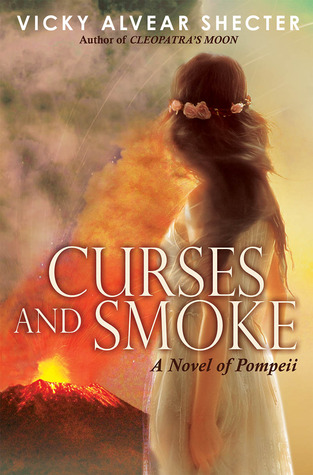 Schecter, Vicky Alvear.
Curses and Smoke: A Novel of Pompeii
27 May 2014, Arthur A Levine Books.
E ARC from Netgalley.com
Oh, how I wanted to like this one! Came to the conclusion that it is just too YA for what my readers want-- a lot of time spent on Lucia longing for a slave, Tag, and dealing with her pregnant friend and her upcoming arranged marriage. The research in this was FANTASTIC-- remember, I was a Latin teacher. So, if you have one of the three high school Latin classes left in the universe in your building, by all means by a copy. This would also be a good historical romance for high schoolers; it was balanced well between the romance and the depiction of gladiators. It just moved way too slowly for middle school, and the language was a bit stilted. I think the kicker from me was the lengthy explanation of how Lucia's mother didn't miscarry most of her children-- they were girls, so the father had them exposed in the town garbage dump, and Lucia's mother took poison and killed herself! YA, here we come!
From Goodread.com
"
TAG is a medical slave, doomed to spend his life healing his master's injured gladiators. But his warrior's heart yearns to fight in the gladiator ring himself and earn enough money to win his freedom.

LUCIA is the daughter of Tag's owner, doomed by her father's greed to marry a much older Roman man. But she loves studying the natural world around her home in Pompeii, and lately she's been noticing some odd occurrences in the landscape: small lakes disappearing; a sulfurous smell in the air. . . .

When the two childhood friends reconnect, each with their own longings, they fall passionately in love. But as they plot their escape from the city, a patrician fighter reveals his own plans for them -- to Lucia's father, who imprisons Tag as punishment. Then an earthquake shakes Pompeii, in the first sign of the chaos to come. Will they be able to find each other again before the volcano destroys their whole world?"