Krosoczka, Jarrett J.
The Ostrich Conspiracy (Platypus Police Squad #2)
6 May 2014, Walden Pond Press
ARC from Baker and Taylor; also
reviewed at YABC
.
Zengo is
back
, this time investigating a malfunstion at a new amusement park, the Kalamazoo City Dome. His partner O'Malley's daughter was caught at the top of a Ferris wheel when the power went out in the entire park, and this outage spells disaster for the park, as well as the city. The park was a pet project of the Mayor Davis', but the detectives are suspicious as to why much of the work on the park was done by contractors from another city. As they investigate, they find a tangled web of deceit. At the same time, the entrepreneur Pandini is working to bring a film to the city, and has his own plans for investigating the park... and maybe taking over the city government. Ever resourceful, Zengo and O'Malley get to the bottom of the problem, but not without humorous derring-do first.
Strengths
: This doesn't try so hard to have a film noir feel to it, and concentrates more on the detective work. The first book has done better than I hoped with my students, who love funny books that are on the shorter side and are also illustrated. They tend not to be picky about content. (See
Stick Dog
.)
Weaknesses
: If the finished copy of this is like the first book, it will be paper-over-board, and those wear SO poorly. Couldn't there be a dust jacketed hardcover?
Wilson, N.D.
Boys of Blur
April 8th 2014 by Random House Books for Young Readers
Copy from Young Adult Books Central and
reviewed there
.
This homage to
Beowulf
finds Charlie Reynolds traveling to a Southern town for the funeral of a football coach who influenced his stepfather, Prester Mack. Once there, Mack wants to stay to finish up the coaching season and wants Charlie to stay and get to know his cousin, Cotton. Charlie's mother wants to head back home because Charlie's father is in the area, and she left him because he was abusive. Charlie and Cotton soon find out that all sorts of bizarre things are going on in the town. The sugarcane fields might be good places to run to train for football, but they are also dangerous. Charlie and Cotton get deeply involved with the monsters in the fields and can only survive by figuring out what is going on.
Strengths
: This is very lyrically written, and the details about Beowulf, Grendel, and Grendel's mother are kind of interesting. The Southern setting is unusual and adds a deeply creepy element to the story-- the smell of the cane burning, the clinging filth of the muck, and the small town culture are all vividly described. Charlie's longing for his father and his grateful acceptance of his step father are poignantly examined. Add a bit of football and some terrifying monsters, and this is a solid middle grade read. The racial elements (Charlie and his mother are white; Prester is black) are not overplayed but important to the story.
Weaknesses
: I wouldn't buy this, but will put it in the collection since I got a free copy. I've not liked any of Wilson's books-- there are just some authors I don't understand. I'm not sure if it was all the muck or the Beowulf, but I just didn't enjoy this one. See below!
From my description of this author's
The Dragon's Tooth:
Weaknesses
: I had trouble with this because I was so repulsed by many of the settings. The old hotel was disgusting, and I think I stayed in its twin in Kalispell, Montana in 1977! Gave me the willies! I read somewhere that the Archer Motel was based on a real place.... echhhh! Cyrus moved from one dilapidated place to another-- the writing must be effective because I was seriously so creeped out by the settings that I had a hard time concentrating on the book. I had to get up and vacuum and scrub because I could feel the gnats living in the damp carpet. Students will not have this trouble!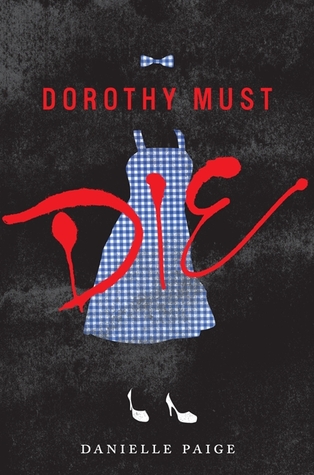 Paige, Danielle.
Dorothy Must Die
April 1st 2014 by HarperCollins
This looked awfully fun, but ended up being a
tremendously
depressing YA book. (F-bomb on page 42, from a Munchkin, no less!). Perhaps for high schools with a big following for Wicked, but I will pass, especially since it's 452 pages long.
From Goodreads.com: "
I didn't ask for any of this. I didn't ask to be some kind of hero.
But when your whole life gets swept up by a tornado—taking you with it—you have no choice but to go along, you know?

Sure, I've read the books. I've seen the movies. I know the song about the rainbow and the happy little blue birds. But I never expected Oz to look like this. To be a place where Good Witches can't be trusted, Wicked Witches may just be the good guys, and winged monkeys can be executed for acts of rebellion. There's still the yellow brick road, though—but even that's crumbling.

What happened?
Dorothy. They say she found a way to come back to Oz. They say she seized power and the power went to her head. And now no one is safe.

My name is Amy Gumm—and I'm the other girl from Kansas.
I've been recruited by the Revolutionary Order of the Wicked.
I've been trained to fight.
And I have a mission:
Remove the Tin Woodman's heart.
Steal the Scarecrow's brain.
Take the Lion's courage.
Then and only then—Dorothy must die."