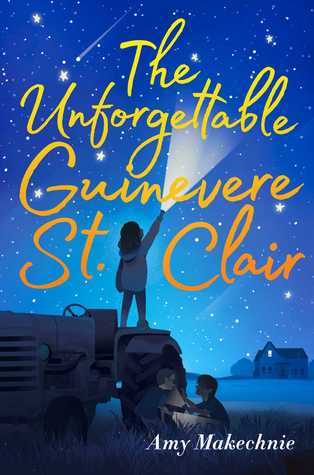 Makechnie, Amy.
The Unforgettable Guinevere St. Clair
June 12th 2018 by Atheneum Books for Young Readers
E ARC provided by Edleweiss Plus
Gwyn and her sister Bitty move to Iowa so that their father Jed can set up a dental practice and their mother can live in a residential facility. After an episode when Gwyn was four, their mother has no memory past the age of 13. The girls' father thinks that being back home in Crow will help Vienna regain some of her memory. There are many people left in town who remember the parents, including Gaysie, a quirky and outspoken neighbor who scares Gwyn quite a bit. In getting to know her new neighborhood, Gwyn finds out a lot about her parents' youth, especially about a sledding accident that they were in with Gaysie that may have contributed to both Vienna and Gaysie's mental challenges. Gwyn is not convinced that her mother will improve, but settles into life in a small town, and is able to enjoy her summer, playing outside and taking piano lessons from the same neighbor who taught her mother. When Gaysie's friend, Wilbur, goes missing, Gwyn and her new friends try to figure out what happened to him, and find a lot more information about Vienna's past as well.
Strengths
: The concept of returning to a parent's hometown and getting to know people who knew the parent is an intriguing one. Gwyn and Bitty are a fun sister group, despite their age difference, and I liked the ensemble casts of both young people and adults. The mystery is okay, and the depiction of Vienna and her memory loss is heartbreaking but also somewhat hopeful.
Weaknesses
: There was a lot going on in this book. The mystery of Wilbur, along with the mother's challenges, made this a long and rather slow moving book. Also, having spent a lot of time in Iowa, this felt more like it was set in a Southern town.
What I really think
: Will probably pass on purchase. The combination of mystery, summer vacation, and family problems reminded me a bit of St. Antoine's
Three Bird Summer
and Hilmo's
Skies Like These
. I like both books, but they don't circulate well.