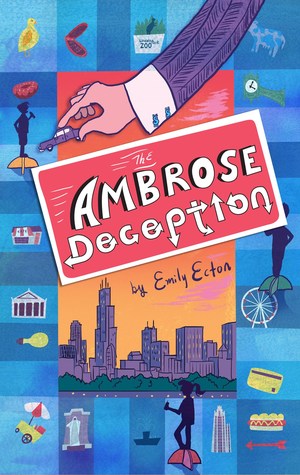 Ecton, Emily.
The Ambrose Deception
February 13th 2018 by Disney-Hyperion
E ARC from Edelweiss Plus
Melissa, Wilf, and Bondi are all informed that they have been invited to compete for a scholarship, and find themselves lured into a hunt for clues across the city of Chicago. They each have a driver at their disposal, as well as a charge card, and each of them set out to figure out a series of clues. There are bumps along the way, but just as they all get close to the end, they are challenged by the children of the man who put together the hunt and must work together to prove that they really did solve all of the clues and should be awarded the money over the other heirs.
Strengths:
Chicago certainly is a great city for this sort of tale-- Blue Balliet's art mysteries as well as Malone's
Sixty-Eight RoomsAdventures
and Fantaskey's
Isabel Feeney, Star Reporter
all incorporate city landmarks into the mysteries of the stories. This had some similarities to Chambliss'
Book Scavenger
series and a feel like Grabenstein's
Mr. Lemoncello's Library
.
Weaknesses
: I wanted a lot more information much earlier in the book as to why the children were involved in solving these puzzles. When it didn't come, I lost interest because I didn't believe that they would fool their parents into thinking they were really working on a scholarship activity.
What I really think
: All of the titles mentioned as similar to this story do not do well in my library, with the exception of
The Book Scavenger
. I will pass on purchasing.
Touchell, Dianne.
Sticky Notes
February 20th 2018 by Delacorte Books for Young Readers
Copy provided by the publisher
Ten-year-old Foster has a great relationship with his parents, and loves to hang out with his father and listen to his stories. His father even comes to school and tells them to his classmates, when most of the people who come are mothers. His father has a high powered job that involves lots of work and nice suits, but once his father starts forgetting things, everything in Foster's life starts to crumble. His mother works at a meat packing plant, and Foster's father's decline is rapid enough that a babysitter has to be hired when she goes to work, more for Foster's dad than for him. Once the diagnosis of early onset Alzheimer's disease is made, the family tries to put plans in place for when the father is even more of a threat to himself. This comes very quickly, and Foster has to deal with the loss of his father
Strengths
: This is a brutally honest account of what can happen to someone who falls prey to Alzheimer's. Many details about the sorts of actions and reactions that Foster's father has explains how difficult it is for a family to deal with this, especially when it is early onset.
Weaknesses
: Foster seems much younger than ten, and the ending was a bit abrupt and unresolved.
What I really think
: There's a bit of a disconnect between the writing style and intended audience. While the details of the father's disintegration are almost too vivid for elementary school readers, a story aimed at middle school readers needs to address the main characters feelings a little more. I wish that there had been more information about how Foster was dealing with this, more like Sonnenblick's
Falling Over Sideways
.