Look! a NEW MIDDLE GRADE BOOK BY SONNENBLICK.
Whew. Sorry. It doesn't come out until August, but it looks great.
Of course, I have about 150 200 books ahead of it in line. If there were every any reason to get my reading done quickly, THIS WOULD BE IT!
It's
Marvelous Middle Grade Monday at Ramblings of a Wannabe Scribe
and
What Are You Reading? d
ay
at
Teach Mentor Texts
and
Unleashing Readers.
It's also
Nonfiction Monday
.
Olson, Tod.
Lost in the Pacific, 1942
October 25th 2016 by Scholastic Nonfiction
Library Copy
Who knew that Eddie Rickenbacker had a harrowing adventure during WWII? When he was assigned to visit a war zone around Guadalcanal to assess the site and give pep talks to weary soldiers, he was to be flown there by a crew of seven that was supposed to be getting a couple of days leave. The men came from a variety of backgrounds, and there are pictures of all of them at the beginning of the book. Things went poorly from the beginning, with a botched take off and the need to board another plane. Eventually, the plane got disoriented, lost, and crashed into the sea! There were barely enough life boats, and no very little food was taken off the plane. The group was lost for over three weeks, and one of the men, Alex Kaczmarczyk, who had just been ill, didn't make it. Miraculously, the other men did. All of them told their stories to various reporters, and a couple even wrote books. Olson does a superb job of fictionalizing this event and making it tremendously readable and exciting. I'm definitely going to order this one for my readers who like reading everything about WWII, and I will also look into the next volume of the series, about Apollo 13.
Losure, Mary.
Isaac the Alchemist
February 14th 2017 by Candlewick Press
Copy received from the publisher
This well-researched biography tells the story of a young Isaac Newton, the difficulties with his upbringing, and his scientific and alchemical experiments. This reminded me quite a lot of the Childhood of Famous Americans books, and I was surprised that there was so much primary source information about Newton and his experiments. I'm have tempted to hand this to fantasy fans who have read books about more magical alchemy themes and see what they think. I'm not quite sure about whether I'm going to buy this, however. While it was well-written and researched, it's a tiny bit too story like for research and a little too slow paced for pleasure reading. The lack of index makes me think that this would not be a first choice for a source for National History day. Definitely take a look at this if your library has a lot of students who like to read historical nonfiction for fun.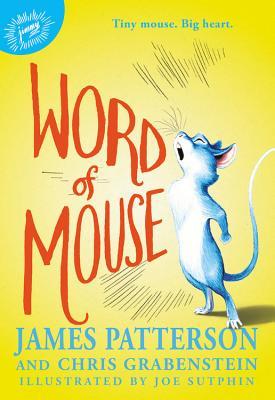 Grabenstein, Chris and Patterson, James. Word of Mouse.
December 12th 2016 by Little, Brown and Company
Library copy
Isaiah, an electric blue mouse, escapes from an evil research laboratory but leaves his family behind. He manages to land in a very disorganized house with food all over the place, and a large contingent of resident mice who are glad to take him in. He also makes the acquaintance of a beautiful mouse, Mikayla. Mikayla can sing beautifully, but girl mice are "not allowed" to sing. Isaiah makes his way to a neighboring house as well, and meets Hailey, who learns that Isaiah is highly intelligent and can even communicate with her by typing on her computer. She helps Isaiah go back to the lab and rescue his family, and Mikayla saves the day by singing the mouse battle cry.
Strengths: The illustrations by Joe Sutphin were definitely a highlight here. There's an evil cat, evil humans, and enough mice gathered in the walls of the house to alarm the most rodent friendly. This is a jacketed hard cover, which is a departure for the "Jimmy" books. A must purchase for elementary libraries.
Weaknesses: Nothing really fresh here, but then, what ten year old has read Mrs. Frisby and the Rats of NIMH (1971)? Maybe this could be a gateway to some classic mice fiction.
What I really think: I was bothered by the fact that "girl mice aren't supposed to sing". That just seemed very... 1971. I was also bothered by the portrayal of rats as dirty and mean. Both things seemed odd and dated to me.