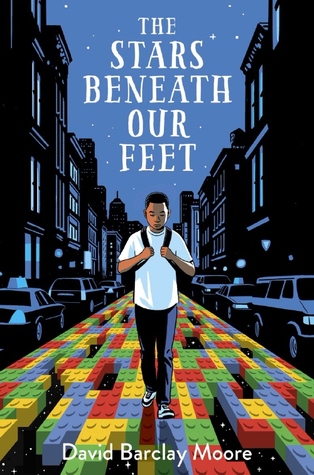 Moore, David Barclay.
The Stars Beneath Our Feet
September 19th 2017 by Alfred A. Knopf Books for Young
E ARC from Edelweiss Above the Treeline
Wallace (Lolly) Rauchpaul lives with his mother and her girlfriend Yvonne in the St. Nick projects in Harlem; his father visits infrequently but does occasionally stop by. The family is struggling with the fairly recent shooting death of Lolly's older brother Jermaine as Christmas approaches. Lolly is especially affected, since he is approached by gangs in the neighborhood for various reasons, but wants nothing to do with them. His best friend, Vega, is also struggling with his relationship to the gangs, especially after his cousin is shot. Lolly is fortunate that he has a community center to attend, and he finds a mentor in Mr. Ali. Lolly loves to build things with Legos, and always follows the blueprints like a good architect should, but he finally decides to put all of the Legos together and build one enormous building. He is aided in this endeavor by bags of Lego bricks that would have been thrown away if Yvonne, who works at Tuttle's toy shop, didn't bring them home. The sculpture eventually starts to take over the apartment, and he gets permission to build in the community center. At the center, he starts to talk more to Rose, who is "different" but enjoys architecture as much as Lolly does. The two work together, and Lolly learns to appreciate her differences. When the sculpture comes to the attention of the news media, there are both good and bad consequences, and Lolly continues his journey of healing and of making his own way in his Harlem neighborhood.
Strengths
: This was an #ownvoices story that doesn't shy away from the harsher realities of living in the projects in Harlem, but doesn't resort to stereotypical characters. There should be a lot more books that involve children who are interested in building with Legos! The book includes a wide but not unrealistic range of diversity, with Lolly's mother, Rose, and Vega. The book is descriptive without being slow paced, and the plot and character development are entertaining.
Weaknesses
: There is a significant amount of negative language in the book. People make fun of Rose because she is large and does not relate well to people (at the end of the book she is diagnosed as being on the Autism spectrum); there is a discussion of whether a girl has a "fat booty" and other instances of commenting on people's bodies; references to gay friends as "limp wrist", and several conversational uses of the term "nigga".
What I really think
: As a white, middle class, suburban female, I do not feel qualified to tell whether or not the language in this book is appropriate. There is a lot of controversy even among the African-American community about the use of any form of the word "nigger". (http://www.npr.org/sections/codeswitch/2013/09/06/219737467/who-can-use-the-n-word-thats-the-wrong-question) Looking at the book from my point of privilege, many of the interactions seem mean, but I will await the thoughts of others who have more of a right to opine. However, based on conversations with African American parents about books during several Black History Month assignments, I think that this book could offend children and their parents at my school, so I am reluctant to buy it. If I see positive reviews by #ownvoices writers that offer explanations for this language, I may change my mind.